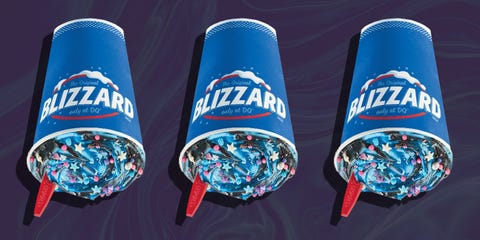 Dairy Queen's is serving a new "out of this world" treat. The Zero Gravity Blizzard is the galaxy-inspired frozen treat that looks like a brain child from the people at NASA.
It starts with vanilla soft serve and is blended with Oreo cookie pieces and cotton candy. The cookie now comes in a Marshmallow Moon flavor with a purple crème to give you the space feel. Then, it's topped with space-like blue and black swirls and galaxy sprinkles. You can order it as a mini, small, medium, or large, but we all know that we're getting the biggest one.
The 50th anniversary of Apollo 11's moon landing is on July 20, so launch your rocket for your closest DQ location on that date!
NEW Zero Gravity BLIZZARD Treat

Celebrate the Moon Landing's 50th Anniversary with the only treat suitable for space: the all new #ZeroGravityBLIZZARD Treat– only here for a limited time and served upside down or the next one's free.* Try one today! #HappyTastesGood

Posted by Dairy Queen on Monday, June 24, 2019