It's not a chicken sandwich, but Taco Bell has just announced they're getting into the fried chicken game.  Coming in 2020, Taco Bell is releasing Crispy Tortilla Chicken strips.  It's not a sandwich, but if you want, you can opt to get these new chicken strips inside a soft taco.  We're pretty excited.
CRISPY TORTILLA CHICKEN STRIPS
According to Taco Bell, these new chicken strips will be marinated in a jalapeño buttermilk ranch sauce and coated in crunchy tortilla chips and panko bread crumbs.  As we mentioned above, you can get them just as tenders, available in 2-piece ($2.99) or 3-piece orders ($3.99), or as a chicken taco ($1.99).
Of course, you can't have chicken strips without something to dip them in.  According to Taco Bell, the crispy tortilla chicken strips will be served with a choice of avocado ranch, creamy chipotle, and a new chili ranch that is described in a Delish article as "creamy, savory, and not too spicy."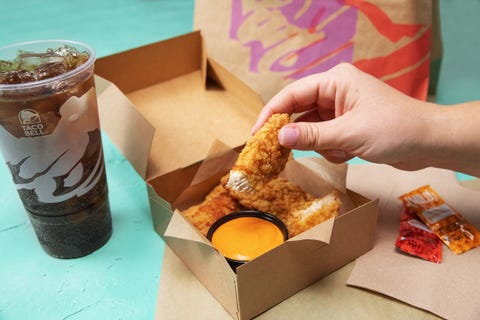 For now, you'll only be able to try these new chicken strips in Dayton, OH and Houston, TX.  Taco Bell says it will be on menus in these two test markets for a couple of months before they are added to nationwide menus sometime in 2020.